Giovanni Battista Cipriani, R.A., (1727-1785), Two Angels, 1747.
Pen and ink on paper, initialed and dated 'J B C 1747' (lower left), 13.5cm x 11cm, unframed. Cipriani was an Italian painter and engraver, who lived in England from 1755. As well as playing a major part in many of the decorative designs for Somerset House, he was a founding member of the RA. £950
Circle of Edmé Bouchardon, (French 1698-1762), Male Figure Study, 18th Century.
Pen and brown ink, 21.5cm x 19.5cm, framed. Bouchardon was a sculptor, painter and draftsmen, whose work is contained within the Louvre collection. £2,500
Italian School, Academic Study, Early 18th Century.
Oil on canvas, 67cm x 47cm, framed. The pose of the model in this painted academic study is evocative of 18th century paintings of St Sebastian, although Sebastian's customary arrows are not present in the picture. £7,500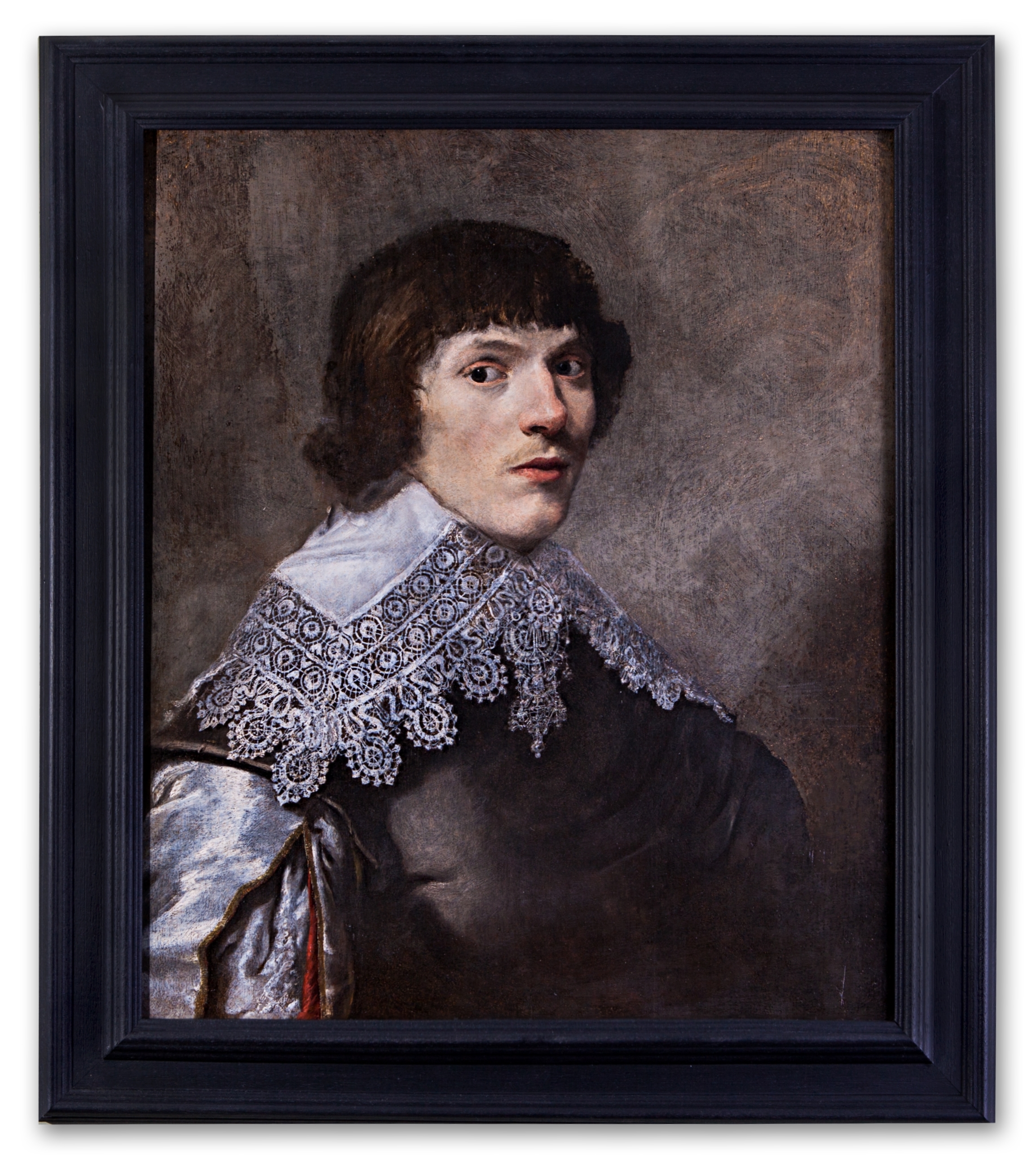 Dutch School, Portrait of Man in Black Coat and Lace Collar, c.1630.
Oil on panel, 66cm x 56cm, half-length portrait, framed. Although unsigned this portrait can be accurately dated from the style of lace in his collar. £7,000
James Ward, R.A., (British 1769-1859), Academic Study, c.1800.
Black and white chalk in paper, initialled and indistinctly dated (lower right), 24cm x 31cm (46cm x 60cm framed). Ward was one of the outstanding artists of the day. His work is contained in many public collections including the Tate Britain. £500
Aegidius Sadeler II (1570-1629), Portrait of Caesar Caligula (after Titian), c.1600.
Engraving, 35cm x 24cm, unframed. This image is after an original painting by Titian (1490-1576), which was lost in a fire at the Royal Alcázar of Madrid in 1734. A version of this print is in the British Museum collection. £350
Continental School, Study of Young Boy after Bartolemeo Schedoni (1578-1615), 18th Century.
Oil on canvas, 28cm x 22cm, framed. This study of a young boy in a doorway, is painted after Schedoni's 'Charity', 1611, which is in the collection of the Museo di Capodimonti, Naples. £2,500
Charles Nicholas Cochin, (French 1715-1790), Academic Study, 18th Century.
Intaglio print on paper, 24cm x 18cm, unframed. Cochin was a French engraver, designer, writer, and art critic, who quickly gained success and fame and at the young age of 22, when he was employed by Louis XV to make engravings for the Royal court. £150
Charles Grandon, (French 1691?-1762), Head of Man with Lines of Construction, 1740.
Engraving in manner of red chalk on paper, 36cm x 26cm, unframed. This engraving was possibly used to illustrate a book of model drawing published by Jean Charles Francois (1717-1769). £175